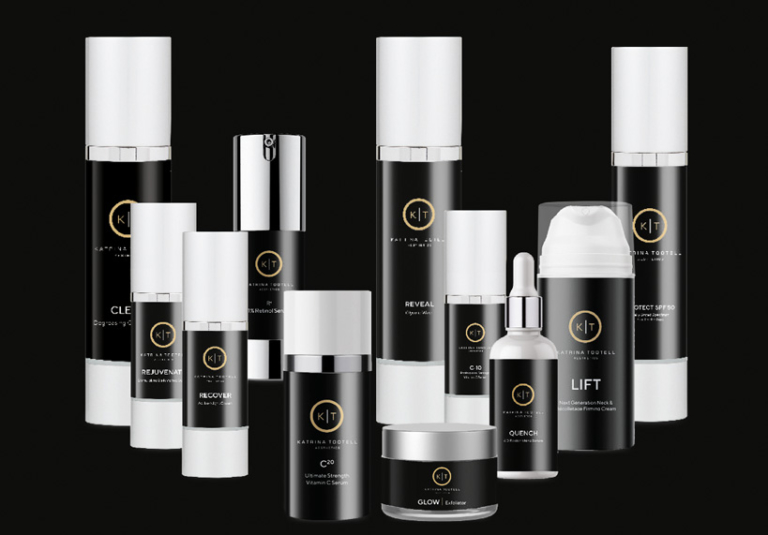 Katrina Tootell Aesthetics is all about making you look the best version of you, through skincare and non surgical treatments.
To enhance this I have created my own bespoke skincare range that compasses every aspect of your tailored skincare needs.  I am a firm advocate of the value of early integration of medical grade skincare mainly to prevent damage to the skin from environmental factors. My approach to developing the skincare range and how I teach my patients is quite simple. Every patient needs to use the three basic skincare essentials which are ABC;
A) Vitamin A
B) SunBlock
C) Vitamin C
This combination will prepare your skin for any rejuvenating treatments.  These essential ingredients form the basis of fabulous skin in terms of skin tone, texture, reducing ageing signs and damage, to promote healthy, glowing and rejuvenated skin.
Katrina Tootell Skincare provides advanced skincare backed by science and research and innovation.  It is centre around three main goals, Prevent, Correct and Protect the skin through the ABC approach, all of our products work in synergy to provide effective long lasting results.
At Katrina Tootell Aesthetics we believe that long lasting results can be achieved with our tailored clinical protocols to address skin concerns together with professional treatments and advanced take home skincare you really can achieve the results that you desire, the benefits are healthier, youthful skin.
Further benefits can be achieved when combining clinical procedures within clinic such as Hydrafacial, Chemical peels, Micro needling with professional medical grade home skincare which aids the delivery of comprehensive results.  All our clinical procedure can be tailored to address the needs of your skin.  Professional, pre conditioning and post recovery treatment helps to reduce downtime post procedure such as Dermal Filler and Toxin. Advanced skincare also aids in protecting results of such treatment due to additional benefits of antioxidants.
Back to blog