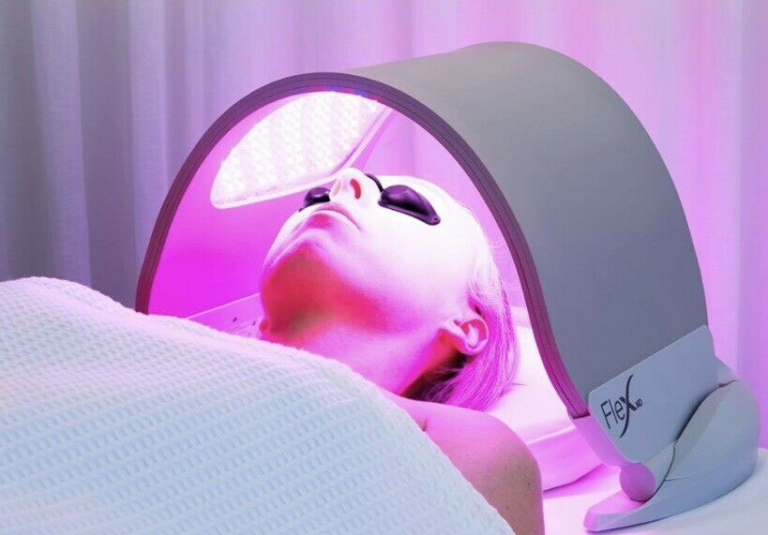 Katrina Tootell is delighted to be working with the most amazing Dermalux LED light machine.
There has been a significant increase in demand for non invasive skin treatment over the last year, with a total of 280,815 procedures in the UK. One treatment that has significantly grown is LED light, (Light Emitting Diode phototherapy) which refers to the use of low level light energy at defined wavelengths to evoke a range of cellular and regenerative benefits. This light therapy can address a number of diverse skin conditions such as rosacea, acne, psoriasis,eczema, dermatitis, wound healing, dry or iterated skin. it is suitable for all skin types and a skin consultation is required to determine the length and level of treatment.  The machine has different lights that are used for different concerns.
Blue light, delivers calming benefits to congested and acne and spot prone skin. It has the benefits of penetration to 2-3 mm in the epidermis which aid eradication of bacteria in skin. The blue light also has shown benefits in mood and fatigue.
Red light,  this light colour has proven to stimulate collagen and elastin synthesis as well as skin tone, texture and reduce the appearance of fine lines and wrinkles. The red light helps to reduce hyperpigmentation and increase skin hydration and stimulate blood flow.
Near Infrared light, this light provides advanced skin rejuvenation benefits to help address many concerns and is often used in conjunction with the other two coloured lights to achieve maximum benefits.
The adaptability of the LED means that it can be used as a stand alone course for selfie concerns or used in conjunction with other treatments just as Hydrafacial, chemical peels, micro needling.
The long term benefits of LED have been proved in many clinical trails and it's become an interval part of many aesthetic treatments due to the numerous benefits in holds.
Back to blog